Introduction
Edit
The player's Store House is one of the four buildings that each player has at their home. This building is where the plants the player harvests will be stored.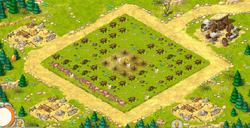 When a player first starts they are provided three (3) constructions plots surrounding their home field --See Photo--. The fourth spot is the Store House which is always at the top right hand position. The player is free to choose which of the remaining three spots to place their
Dragon Lair
,
Magic Circle
, and
Magic Laboratory
. The player's goal is to upgrade this building so they have plenty of room to store the crops they harvest. There are several
Achievement awards
that players can earn for upgrading their Store House.
For new players, the maximum level for the Storehouse is 100. Once a player transforms, the new maximum is 110.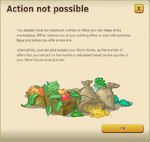 The size of a player's
Market
also affects the number of sales a player can have running concurrently. The larger the storehouse, the more offers that are allowed on the market. As the to the right shows, the offers maximum is totaled based on one quarter of the Store House level, plus two [ (Lvl*.25)+2 ] The table below has further details.
The cost and duration of expansions, and the expanded capacity can be calculated with:
Cost = 25 + 50 x (Lvl - 1) + 50 x (Lvl - 2) x (Lvl - 1) / 2
Time (s) = 156 + 168 x (Lvl - 2) + 72 x (Lvl - 3) * (Lvl - 2) / 2
Capacity = 21 + 40 x ((Lvl + 4) x (Lvl + 1) / 2)
| Level | Cost | Time | Capacity | Market sales | Photo |
| --- | --- | --- | --- | --- | --- |
| 1 | 0 | 0 | 221 | 2 | |
| 2 | 75 | 02:36 | 381 | 2 | Same as 1 |
| 3 | 175 | 05:24 | 581 | | Same as 1 |
| 4 | 325 | 09:24 | 821 | | Same as 1 |
| 5 | 525 | 14:36 | 1,101 | 3 | Same as 1 |
| 6 | 775 | 21:00 | 1,421 | 3 | Same as 1 |
| 7 | 1,075 | 28:36 | 1,781 | 3 | |
| 8 | 1,425 | 37:24 | 2,181 | 4 | Same as 7 |
| 9 | 1,825 | 47:24 | 2,621 | 4 | Same as 7 |
| 10 | 2,275 | 58:36 | 3,101 | 4 | Same as 7 |
| 11 | 2,775 | 01:11:00 | 3,621 | 4 | Same as 7 |
| 12 | 3,325 | 01:24:36 | 4,181 | 5 | Same as 7 |
| 13 | 3,925 | 01:39:24 | 4,781 | 5 | Same as 7 |
| 14 | 4,575 | 01:55:24 | 5,421 | 5 | Same as 7 |
| 15 | 5,275 | 02:12:36 | 6,101 | 5 | Same as 7 |
| 16 | 6,025 | 02:31:00 | 6,821 | | Same as 7 |
| 17 | 6,825 | 02:50:36 | 7,581 | | Same as 7 |
| 18 | 7,675 | 03:11:24 | 8,381 | 6 | Same as 7 |
| 19 | 8,575 | 03:33:24 | 9,221 | 6 | Same as 7 |
| 20 | 9,525 | 03:56:36 | 10,101 | | Same as 7 |
| 21 | 10,525 | 04:21:00 | 11,021 | | |
| 22 | 11,575 | 04:46:36 | 11,981 | | Same as 21 |
| 23 | 12,675 | 05:13:24 | 12,981 | | Same as 21 |
| 24 | 13,825 | 05:41:24 | 14,021 | | Same as 21 |
| 25 | 15,025 | 06:10:36 | 15,101 | | Same as 21 |
| 26 | 16,275 | 06:41:00 | 16,221 | | Same as 21 |
| 27 | 17,575 | 07:12:36 | 17,381 | 8 | Same as 21 |
| 28 | 18,925 | 07:45:24 | 18,581 | | Same as 21 |
| 29 | 20,325 | 08:19:24 | 19,821 | | Same as 21 |
| 30 | 21,775 | 08:54:36 | 21,101 | | Same as 21 |
| 31 | 23,275 | 09:31:00 | 22,421 | | Same as 21 |
| 32 | 24,825 | 10:08:36 | 23,781 | | Same as 21 |
| 33 | 26,425 | 10:47:24 | 25,181 | | Same as 21 |
| 34 | 28,075 | 11:27:24 | 26,621 | | Same as 21 |
| 35 | 29,775 | 12:08:36 | 28,101 | | Same as 21 |
| 36 | 31,525 | 12:51:00 | 29,621 | | Same as 21 |
| 37 | 33,325 | 13:34:36 | 31,181 | | Same as 21 |
| 38 | 35,175 | 14:19:24 | 32,781 | | Same as 21 |
| 39 | 37,075 | 15:05:24 | 34,421 | 11 | Same as 21 |
| 40 | 39,025 | 15:52:36 | 36,101 | 12 | Same as 21 |
| 41 | 41,025 | 16:41:00 | 37,821 | | Same as 21 |
| 42 | 43,075 | 17:30:36 | 39,581 | | Same as 21 |
| 43 | 45,175 | 18:21:24 | 41,381 | | Same as 21 |
| 44 | 47,325 | 19:13:24 | 43,221 | 13 | Same as 21 |
| 45 | 49,525 | 20:06:36 | 45,101 | 13 | Same as 21 |
| 46 | 51,775 | 21:01:00 | 47,021 | 13 | Same as 21 |
| 47 | 54,075 | 21:56:36 | 48,981 | 13 | Same as 21 |
| 48 | 56,425 | 22:53:24 | 50,981 | 14 | Same as 21 |
| 49 | 58,825 | 23:51:24 | 53,021 | 14 | |
| 50 | 61,275 | 24:85:36 | 55,101 | 15 | Same as 49 |
| 51 | 63,775 | 25:51:00 | 57,221 | 15 | Same as 49 |
| 52 | 66,325 | 26:52:36 | 59,381 | 15 | Same as 49 |
| 53 | xx | yy | 61,581 | 15 | Same as 49 |
| 54 | xx | yy | zz | 15 | Same as 49 |
| 55 | xx | yy | 66,101 | 15 | Same as 49 |
| 56 | xx | 31:06:00 | 68,421 | 16 | Same as 49 |
| 57 | xx | yy | 70,781 | 16 | Same as 49 |
| 58 | 82,675 | 33:27:24 | 73,181 | 16 | Same as 49 |
| 59 | 85,575 | yy | 75,621 | | Same as 49 |
| 60 | xx | yy | zz | | Same as 49 |
| 61 | xx | yy | zz | | Same as 49 |
| 62 | xx | yy | zz | | Same as 49 |
| 63 | xx | yy | zz | | |
| 64 | xx | yy | 88.421 | | Same as 63 |
| 65 | xx | yy | 91,101 | | Same as 63 |
| 66 | $107,275 | 43:21:00 | 93,821 | | Same as 63 |
| 67 | xx | yy | zz | | Same as 63 |
| 68 | xx | yy | zz | | Same as 63 |
| 69 | xx | yy | zz | | Same as 63 |
| 70 | xx | yy | 105,101 | | Same as 63 |
| 71 | $124,275 | 50:11:00 | 108,021 | | Same as 63 |
| 72 | $127,825 | 51:36:36 | 110,981 | | Same as 63 |
| 73 | 131,425 | 53:03:24 | 113,981 | | Same as 63 |
| 74 | 138,775 | 56:00:36 | 117,021 | | Same as 63 |
| 75 | xx | yy | 120,101 | | Same as 63 |
| 76 | $142,525 | 57:31:00 | 123,221 | | Same as 63 |
| 77 | xx | yy | zz | | Same as 63 |
| 78 | xx | yy | zz | | |
| 79 | xx | yy | 132,821 | | |
| 80 | $158,025 | 63:44:36 | 136,101 | | |
| 81 | 162,025 | 65:21:00 | 139,421 | | |
| 82 | 166,075 | 66:58:36 | 142,781 | | |
| 83 | $170,175 | 68:37:24 | 146,181 | | |
| 84 | 174,325 | 70:17:24 | 149,621 | | |
| 85 | 178,525 | 71:58:36 | 153,101 | | |
| 86 | xx | yy | 156,621 | | |
| 87 | 187,075 | 75:24:36 | 160,181 | | |
| 88 | xx | yy | zz | | |
| 89 | xx | yy | zz | | |
| 90 | xx | yy | zz | | |
| 91 | xx | yy | zz | | |
| 92 | xx | yy | zz | | |
| 93 | xx | yy | zz | | |
| 94 | xx | yy | zz | | |
| 95 | xx | yy | zz | | |
| 96 | xx | yy | zz | | |
| 97 | xx | yy | zz | | |
| 98 | xx | yy | zz | | |
| 99 | xx | yy | zz | | |
| 100 | xx | yy | 218,000 | | |
| 101 | xx | yy | zz | | |
| 102 | xx | yy | zz | | |
| 103 | xx | yy | zz | | |
| 104 | xx | yy | zz | | |
| 105 | xx | yy | zz | | |
| 106 | xx | yy | zz | | |
| 107 | xx | yy | zz | | |
| 108 | xx | yy | zz | | |
| 109 | xx | yy | zz | | |
| 110 | xx | yy | zz | | |